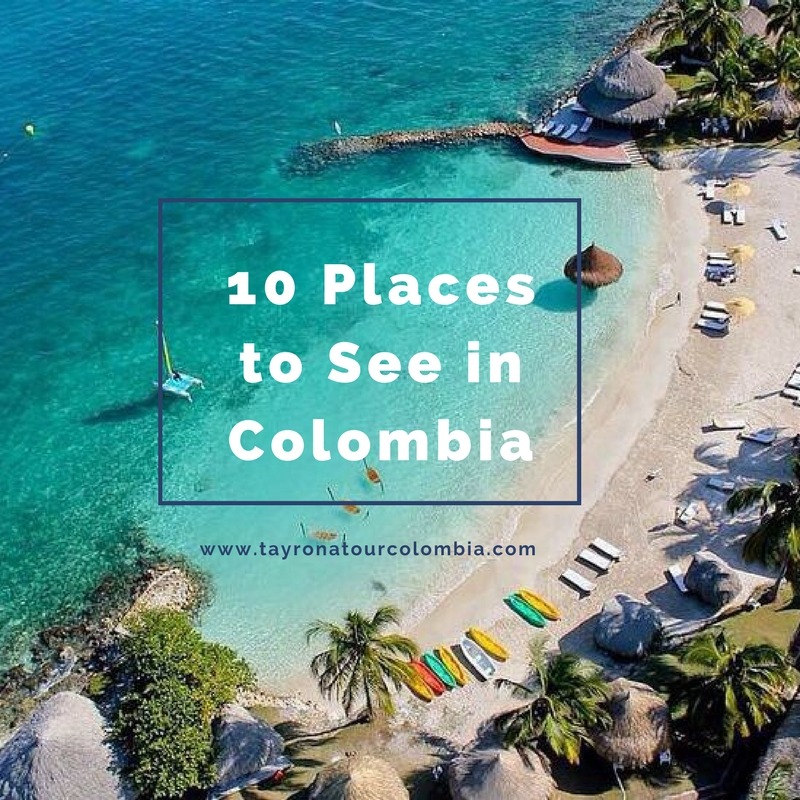 10 Places to See in Colombia
DISCOVER COLOMBIA, LAND OF SECRETS
Traveling is one of the best things you can do in life to fall in love with life itself, and Colombia is an excellent option to begin with. Colombia have a vast territory that covers an area of 1 141 748 km² and a territorial sea area of up to 12 nautical miles, where you can find the Caribbean Sea as well as Pacific and according to Wikipedia, is the only country in South America with access to the Atlantic Ocean, in addition to having an archipelago and several islands Such as those of San Andrés, Providencia and Santa Catalina. If you want to know more go to my site to see more articles about Colombia and surroundings.
So as you will see, Colombia is a very large country, unable to be traveled in a lifetime, although with these 10 reasons to visit Colombia we will show you why this country shouldn't  be missed:
1.-PARQUE TAYRONA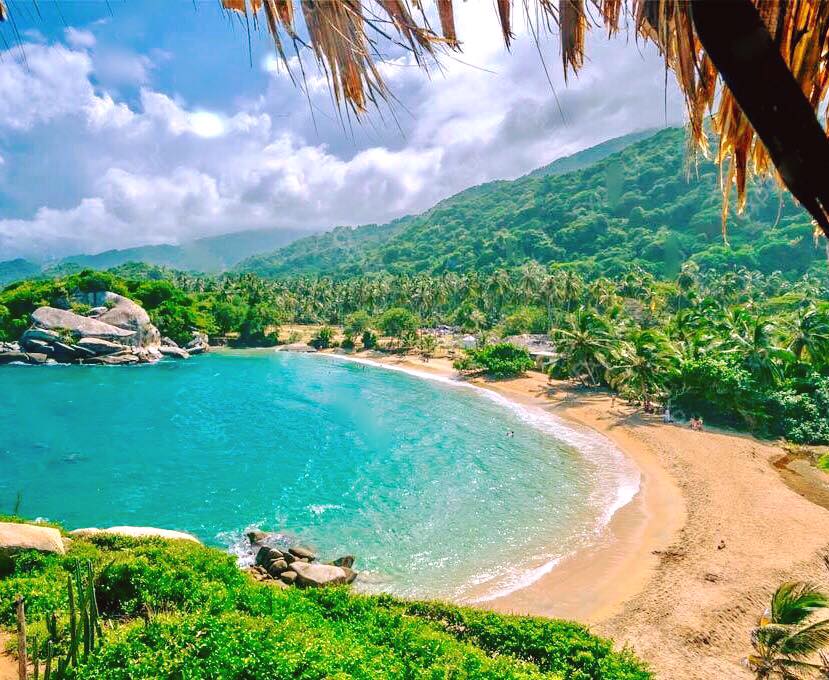 This place is one of my favorite places in the world, surrounded by jungle and almost virgin beaches, is the famous Tayrona Park, made up of more than 5 beaches, this popular park is known for its jungle territory and because here you can find Natives that still retains their lifestyle without Western influence. You can get to Tayrona Park from Santa Marta by bus or from Taganga in boat. Access to the park is $ 16 USD for foreigners and $ 6USD for Colombians. I suggest you bring food and water, and if you want to sleep there you can camp inside the park or rent a hammock, I recommend Cabo San Juan beach.
2.- VALLE DE CÓCORA, SALENTO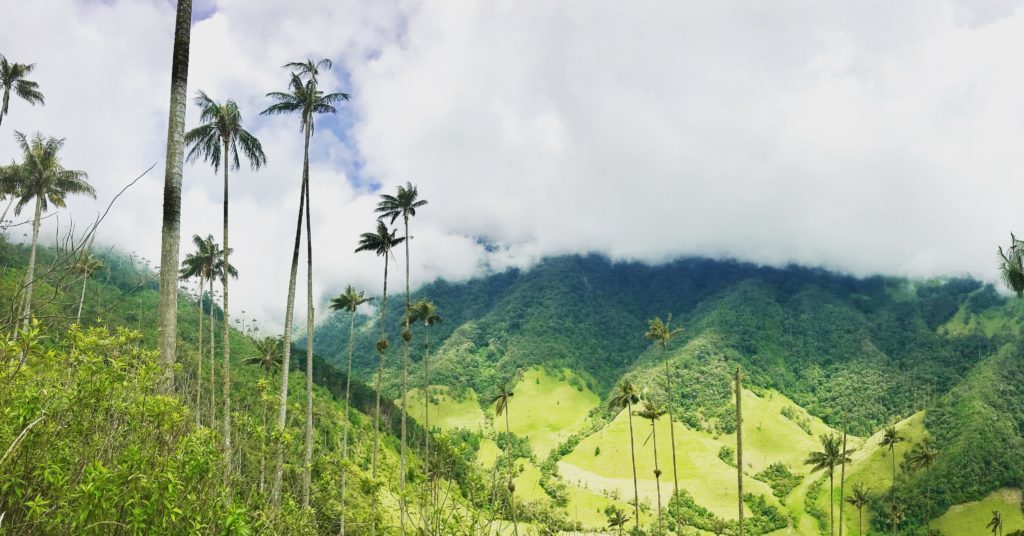 Valle de Cócora is one of the most beautiful places in Colombia, famous for the tree palms that grows up to 20 meters or even more, this place is located just 4 hours from Cali and 1 hr from Armenia.
To get here you can come from Medellin or Cali, by taking a bus to Armenia (you can also arrive by plane to Armenia from other parts of Colombia take a look in Avianca Airlines ), once there, you take a Bus to Salento, which is approx 1 hour. Salento is a charming village where you can stay and spend a few days because there is so much to see too! Salento is 40 min away from Valle de Cocora, you can take de Jeep (willys) to get there.
3.-BARÚ ISLAND, CARTAGENA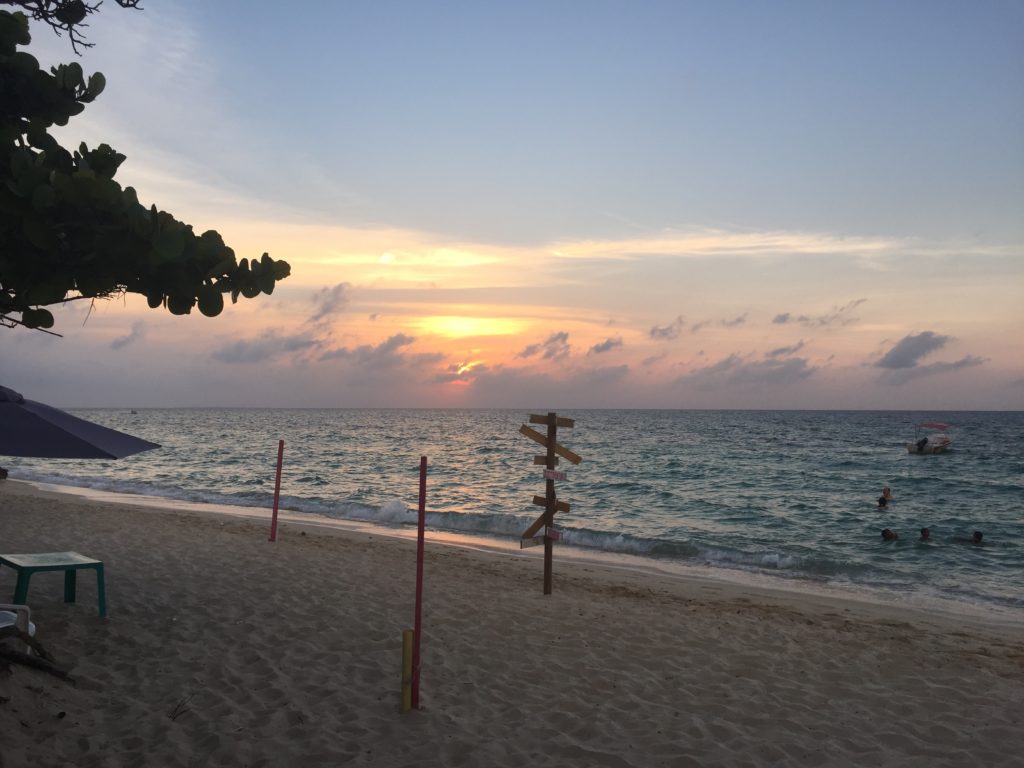 Barú island is located about 40 minutes away from Cartagena, is a beautiful beach located in the Caribbean Sea of Colombia. To get here you can do it by sea in one of the ferries that leave from the Cartagena dock on the boulevard or by land in private transport or shared taxi. The first option is better though make sure you get early since there is few and only in certain hours. Once in Baru Island, you can sleep in one of the cabins that are next to the beach, still operated by locals, you can find delicious sea food at a very good price and amazing sunsets, make sure walk the beach to see the landscape.
4.-SANTA CRUZ DEL ISLOTE.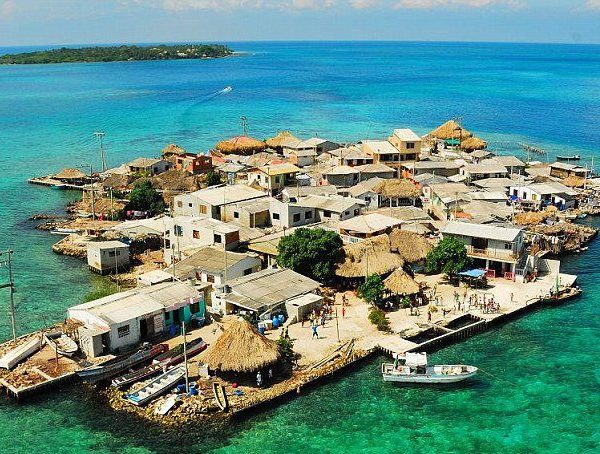 This is one of the 10 islands located in the Archipelago of San Bernardo in the National Natural Park Corales del Rosario, is famous for winning the Guinness record for being the most populated island in the world. This island was discovered by a fishermen 150 years ago and little by little was populated until now, that counts  1,200 habitants (and growing) in an area of 100,391 km2.
It is a very safe island that can be visited without problems, you can get here straight from Cartagena (only with casa en el agua direct boat, although I do not recommend this expensive way!) or from Rincon del mar in boat.
5.- Archipiélago de San Bernardo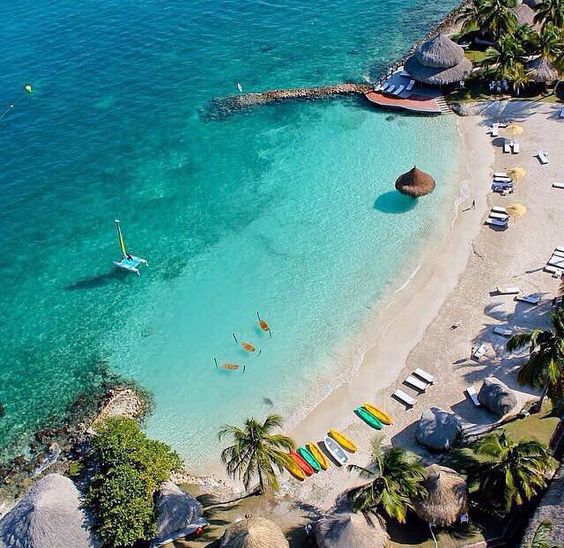 Well, let's begin by describing what an archipelago is, this is a set of islands close to each other, almost often with the same geological origin. Múcura island
Now, this archipelago is located within Colombia and is made up of about 10 islands, located in the Gulf of Morrosquillo, in the Caribbean Sea. It is composed of the Boquerón, Palma, Panda, Mangle, Ceycén, Cabruna, Tintipán, Maravilla and
Since 1996, part of the archipelago belongs to the Islas Corales del Rosario and San Bernardo National Natural Park. Here is the famous hotel of gringos "The house on the water", although I do not recommend it at all, since in addition to being expensive, they have everything under control. I recommend better staying in cabins in Tintipan (ask for Raymundo), or Isla Múcura, these hotels do not find on the Internet or make reservations online.
6.-CERRO DE SAN VICENTE, ABEJORRAL.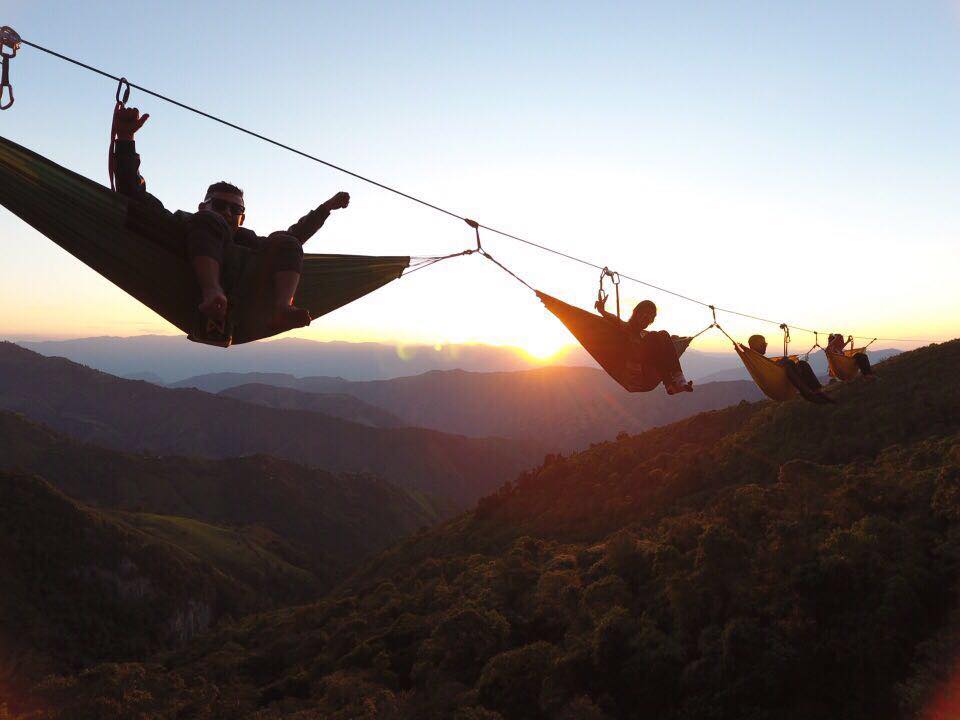 This is another must  in Colombia, there is an aero hostel called Casa en el Aire where you have the option of sleep in a sleeping bag sustained in air with a cable. This little wood house have capacity for about 10 people and it is located, you have to book in advance to to secure your place.
Casa en el Aire is built on the Cerro de San Vicente, a pyramidal mountain that is an incredible natural lookout in the Antioqueña area, located about 15 km from urban area of Abejorral and 3 hours away from Medellin. This hostel has access in 2 ways: climbing or through the cable. So if you are afraid of heights, it would be a good time to face it and enjoy this natural spectacle and beautiful sunsets.
7.- SAN ANDRES ISLAND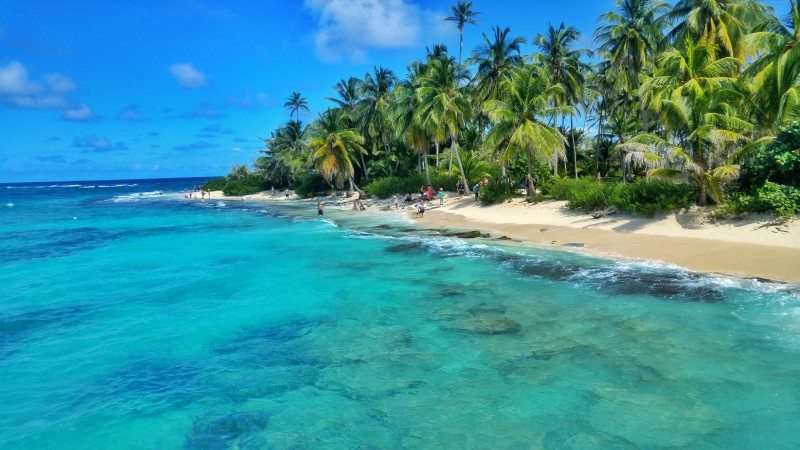 San Andrés Island have the most amazing beaches in Colombia, owner of a beautiful sunset and a particular way of living, seems like time haven't pass here. You can also visit surrounding islands, like Providencia and the called area Sea of 7 colors. This particular island is so special for many reasons, like is nearest from Nicaragua than Colombia, nice people (that talk an strange native english), delicious sea food, for this and more you will find it so amazing that you may want to stay more.
To get here you must come by air (or cruise), check wingo page  to see rates and dates available, the cheapest roundtrip is going from cartagena or Barranquilla. You must come with a roundtrip ticket, since this is mandatory in other way they wouldn't let you in, also you have to pay $30 USD  as a entry tax. Accommodation is quite expensive, also food but you can always find reasonable prices.
8.-CABO DE LA VELA, GUAJIRA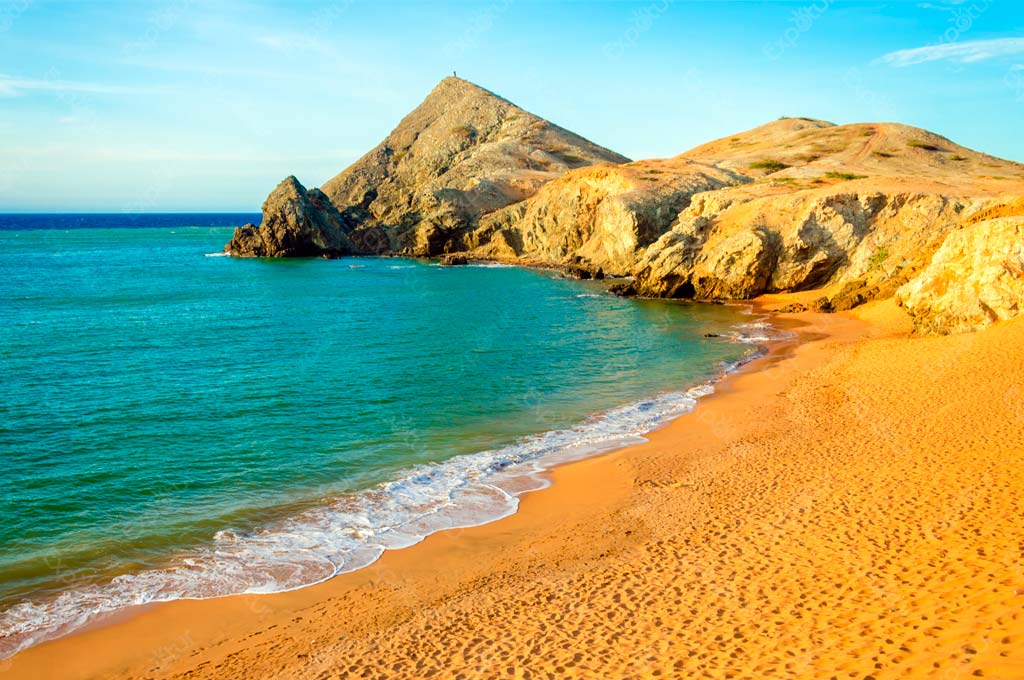 Cabo de la Vela is located in the Caribbean Sea of ​​southeastern Colombia, this is the only beach that have also desert, and is still habited by Wayuú native indians where they still preserve their lifestyle without urban influence. According to the Wayuú worldview, Cabo de la Vela or Jepirá as they call it, it is the sacred portal where the spirits of their dead cross to pass to the unknown.
This is one of the most impressive destinations that Colombia has for landscape with famous sunsets, you can enjoy sea and desert at the same time, as well as sports like sandboard, visit the sugar pylon, the golden beach and the eye of the Water. To get here I recommend you to hire a tour operator (it is the most comfortable way), see tours available here . But if you want to do it on your own, you can leave from Sta Marta or Palomino to Riohacha, then arrive in Uribia and once there take a 4 × 4 pickup truck  that are the only ones that goes to Cabo de la Vela, this can be a very long way so better to start 5am in the morning.
9.-CAÑO CRISTALES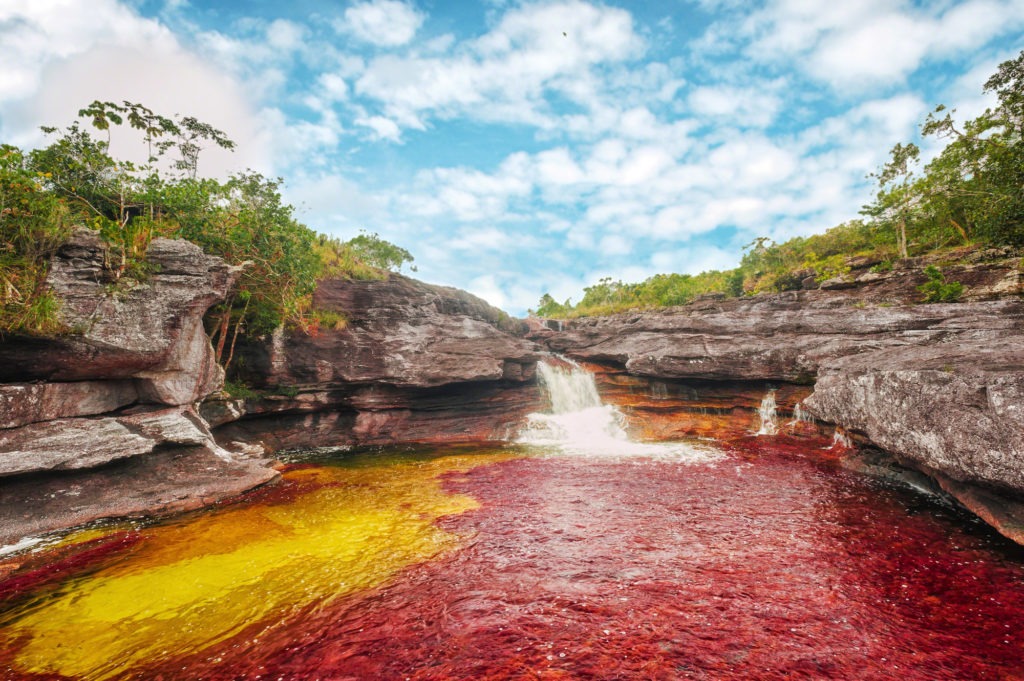 Colombia have more than 50 reserved natural parks and Caño Cristales is one of them, it belongs to the National Park Natura Sierra de La Macarena, for this reason, access to it is controlled and supervised. Caño Cristales is a half-hidden river located in the Sierra de la Macarena, in the department of Meta. Also called the river of the 5 colors, a very unique phenomenon happens because in the background algae is grow in 5 different colors that makes the river paint between yellow, red, green, black and blue in the seasons from June to December.
Getting to Caño Cristales is not easy and neither cheap, you must have time. You can get a plane to the municipality of Macarena, prices are from $ 168 usd to 236 usd p / p. going from Bogota, Medellin or Villavicencio. Visit this page for more information  (spanish) about routes and prices.
To visit Caño Cristales I recommend doing it from 4 days (1 day is not worth it), and the best is to hire a tourist package, just to let you know, most of the tour operators offer practically the same, the price of lodging is standard, so what matters are the days that you will be. I leave this informative page (spanish) on how to choose the best tour for you, it helped me a lot, nobody explained it better.
10.-NATURAL PARK GORGONA ISLAND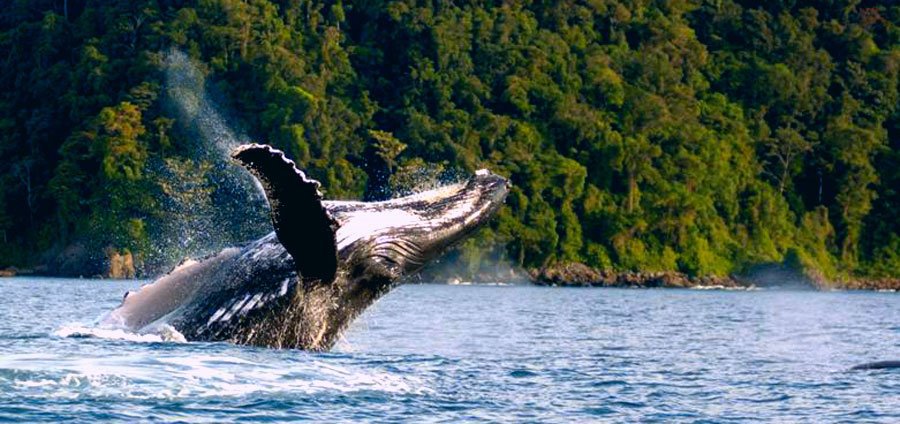 This island located on the Colombian Pacific coast, 30 years ago was the prison of the most dangerous criminals in Colombia, then in 1984 became a nature reserve and protected island, and that same year was declared a World Heritage Site, and a few years ago was open to the public.
Every year between July and November this island is home of thousands of humpback whales arriving from the Antarctic  to give birth to their young in the warm waters of the Colombian Pacific. You can visit the island to see this amazing show or just to relax on its beaches as Palma beach or Playa Blanca, or also visit the old prison that today is a museum. Gorgona offers comfortable facilities for your stay, visit the official website for more information
To get here, there are 2 routes: The first one from the Guapi municipality, in the Cauca, you take a boat that crosses the Guapi river until reaching the open sea, this route is 1:30 hours until you reach Gorgona. The second route is from Buenaventura, Valle del Cauca, you can hire a boat that takes a trip of approx. 4 hours or also you can take a coastal boat of 1 day trip (part at 6:00 pm and get to the island the next day about 6:00 am), both destinations can be reached by plane from Cali.
You like this post? Pin it to read it later.